About FGM
The Foundation of Greater Montréal (FGM) is a community foundation dedicated to the collective well-being of Greater Montreal.
The Foundation of Greater Montréal is here to serve and listen to its community. In collaboration with its partners, it mobilizes philanthropic resources, disseminates knowledge, sparks initiatives and supports its community. Its goal is to advance the Sustainable Development Goals (SDGs) in Greater Montreal. FGM has a vision of a community that is free of poverty and discrimination, where all can realize their potential and live in a healthy environment, now and in the future.
The Foundation provides a range of varied services at competitive rates, as well as personalized advice to its clients, in order to increase available philanthropic resources and their impact in the community. It distributes several millions of dollars in grants each year, and mobilizes all of its assets in support of the SDGs, through an ambitious responsible investment and impact investment strategy.
Barely 20 years after its creation, the Foundation of Greater Montréal had distributed more than $100M in grants to charitable organizations operating in the Greater Montréal region. A variety of FGM funds and programs support groups working in every sector of the collective life of our community.
Quick links
Karel Mayrand, President and CEO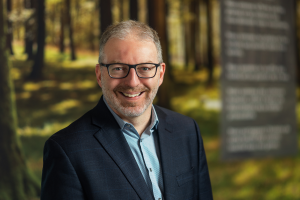 Click here to download this picture in high resolution
Karel Mayrand is the President and CEO of the Foundation of Greater Montréal since June 2020. Before that, he has been for twelve years Director General for Quebec and the Atlantic with the David Suzuki Foundation, and chair of Al Gore's Climate Reality Project in Canada. He is also Vice-President of the board of Parc Jean-Drapeau. Karel is co-author of Demain, le Québec (Éditions La Presse, 2018), author of Une Voix pour la Terre (Boréal, 2012), co-author of Ne renonçons à rien (Lux, 2017) with the Faut qu'on se parle collective, and initiator and co-author of the Manifesto for a Global Movement (2015) which was signed by 42 000 people.
Before joining the David Suzuki Foundation in 2008, Karel advised several UN agencies as well as Quebec's former Premier, Pierre Marc Johnson, on globalization and sustainability issues, for over a decade.  He co-authored Governing Global Desertification (London, Ashgate Aldershot, 2006). He was co-founder in 2002 of Unisféra International Centre, a sustainability think-tank, where he created Planetair, a leading Canadian provider of carbon offsets and climate solutions. He is an Action Canada fellow (2005) and was finalist in 2008 for the Arista Prize as Social entrepreneur of the year in Quebec.