The Foundation of Greater Montréal was launched at the beginning of the year 2000.
It went over the 370-million-dollar mark in assets under management in 2020
which ranks it sixth among Canadian community foundations after operating for only 20 years or so. The Foundation administers some 700 philanthropic funds, in all sectors. In 2020, FGM distributed more than $33M to nearly 780 different organizations in Greater Montréal. 
704 fonds

Ces fonds soutiennent des causes, des organisations et des projets dans tous les secteurs de notre vie collective, de la recherche médicale à la culture en passant par la protection de l'environnement, l'accès à l'éducation, la réconciliation avec les Premiers Peuples ou encore la sécurité alimentaire, l'itinérance, la santé mentale et bien d'autres encore.
Évolution des fonds depuis 2001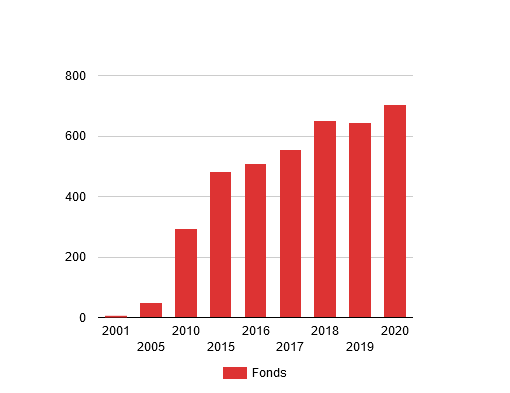 Évolution des actifs depuis 2001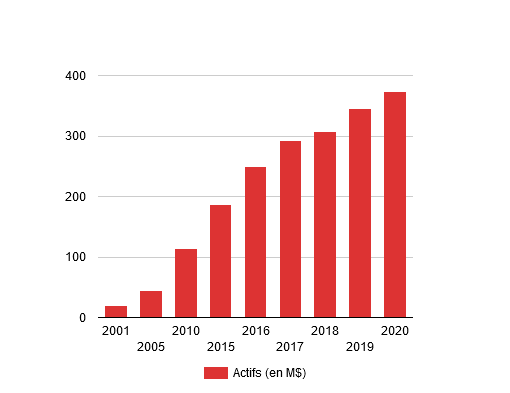 L'année 2020 en un coup d'oeil
Grâce à des apports de 46 M$ et à un taux de rendement brut remarquable de 11,33% en cours d'année, la FGM est en meilleure santé financière et mieux positionnée que jamais pour servir la communauté du Grand Montréal.
33,3 M$ en subventions
Grâce notamment à l'appui du gouvernement fédéral dans le cadre du Fonds d'urgence pour l'appui communautaire et à la générosité de nombreux partenaires, la FGM a pu répondre à la pandémie en versant plus de subventions que jamais auparavant dans son histoire.

778 organismes soutenus
Afin de répondre aux besoins criants dans la communauté du Grand Montréal dans le contexte de la COVID-19, la FGM a appuyé le travail de près de 780 organismes oeuvrant dans tous les secteurs et un peu partout à travers le territoire.

Répartition des subventions par Objectifs de développement durable (ODD) – 2020
ODD 1 – Pas de pauvreté
1 279 311 $
3,8 %
ODD 2 –
Faim « Zéro »
2 790 556 $
8,4 %
ODD 3 – Bonne santé et bien-être
7 936 704,1 $
23,8 %
ODD 4 – Éducation de qualité
3 109 015,6 $
9,3 %
ODD 5 – Égalité entre les sexes
345 756 $
1 %
ODD 8 – Travail décent et croissance économique
273 753 $
0,8 %
ODD 9 – Industrie, innovation et infrastructure
125 000 $
0,4 %
ODD 10 – Inégalités réduites
2 782 213 $
8,3 %
ODD 11 – Villes et communautés durables
53 776 $
0,2 %
ODD 13 – Changements climatiques
264 577 $
0,8 %
ODD 15 – Vie terrestre
10 221 209 $
30,7 %
ODD 16 – Paix, justice et institutions efficaces
270 270 $
0,8 %
ODD 17 – Partenariats pour la réalisation d'objectifs
24 877 $
0,1 %
Arts et culture
3 262 012,7 $
9,8 %
Multi-ODD
597 736,8 $
1,8 %
Evolution of the Foundation over the past 5 years
2019
491
Supported organizations
2018
467
Supported organizations
2017
300
Supported organizations
2016
370
Supported organizations
2015
332
Supported organizations