Launch of the Montréal Climate Partnership
10 December 2020
Montréal leaders mobilize to speed up reduction of the city's GHG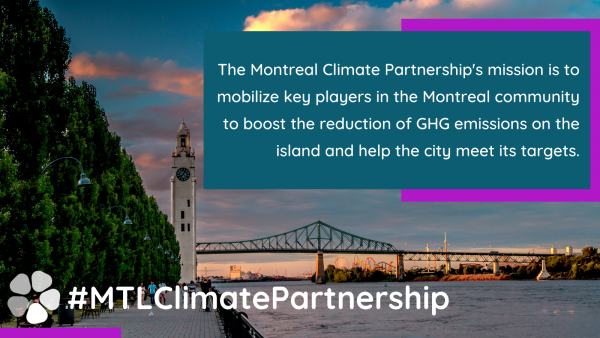 Montréal, December 10, 2020 – As the City of Montréal unveils its climate plan for achieving its objectives to reduce its greenhouse gas (GHG) emissions by 55% by 2030 and to achieve carbon neutrality by 2050, the Foundation of Greater Montréal (FGM) and the Trottier Family Foundation are proud to announce the launch of the Montréal Climate Partnership (MCP). This independent initiative brings together economic, community, philanthropic and institutional organizations. Its mission is to mobilize key players in the community. In doing so, we can ramp up the city's efforts to reduce GHG emissions and put Montréal on the path to carbon neutrality.
Inspired by leading international mobilization models, including the Green Ribbon Commission in Boston, the MCP will concentrate on specific industries. Among them, construction and transportation are among Montréal's largest GHG producers. PCM also plans to focus mobilization efforts on businesses, manufacturers and major institutions. The MCP will also work closely with grassroots initiatives.
A community committed to fight climate change
"Across the globe, philanthropic foundations play a vital part in supporting cities. Working together, we can adopt ambitious climate plans," said Éric St‑Pierre, Executive Director of the Trottier Family Foundation. "Montréal is no exception. The Trottier Family Foundation is proud of the fact that we have helped the City to develop its climate plan. The challenge now is to mobilize all of Montréal's leaders to achieve our climate objectives. Our hope is that the MCP will speed up the city's decarbonization through teamwork and concerted action. The Trottier Family Foundation is proud to announce that we are contributing $600,000 to this project."
The MCP will dedicate its resources, including a starting budget of $1.6 million, to bringing people together. By fostering collaboration and social dialogue, we can push for concrete efforts, led by civil society, to reduce GHGs.
"Fighting climate change is one of the most significant challenges of our time," said Karel Mayrand, President and CEO of FGM. "This partnership is part of FGM's broader commitment to mobilizing community leaders and the philanthropic community. Our goal is to improve Montréalers' quality of life and reduce the social inequalities that climate change only exacerbates. We will take concrete steps to achieve the United Nations Sustainable Development Goals in our city and reach our climate targets. I applaud the City of Montréal's commitment to becoming a global leader in the fight against climate change. We are also grateful for its financial support of this great collective effort."
Valérie Plante, Mayor of Montréal, concurred. "Montréalers are incredibly committed to the environment and to climate issues. The Montréal Climate Partnership is an expression of our promise to make our city and its economy carbon‑neutral, resilient, inclusive and strong. We are proud to provide $1 million in financial support for this rallying initiative. The MCP is testament to Montréal's active role in the global movement toward a greener future."
Montréal, a leader in urban climate efforts
The MCP builds on the success of the collaboration established in 2018 by philanthropic foundations. Working with the CIUSSS du Centre-Sud-de-l'Île-de-Montréal, the Caisse de dépôt et placement du Québec, the City of Montréal and C40 Cities, it led to the development of the City's Climate Plan. Today, the MCP shows that Montréal is setting the pace for other major cities worldwide. It will lead by example in moving towards a greener future as a fundamental pillar of Montréal's prosperity and appeal.
The MCP is expected to begin work in January 2021. More than 20 members have joined its steering committee:
Joanne Bergeron,Vice President, Human Resources and Vice President Sustainability, Aéroports de Montréal
Julie Boucher, Vice President – Customer Experience, Communications and Community Relations, Hydro-Québec
Marie-Claude Bourgie, Executive Director, Greater Montreal Climate Fund
Graham Carr, President and Vice-Chancellor, Concordia University
Danielle Charest, President and CEO, Jalon
Daniel Charron,  Vice President, Engagement sociétal et affaires publiques, Fondaction
Déborah Cherenfant, President, Junior Chamber of commerce of Montreal
Leïla Copti, President, Copticom
Daniel Dagenais, Vice President Operations, The Port of Montreal
Pauline D'Amboise, Secretary General and Vice President Governance and Sustainable Development, Desjardins
Magda Fusaro, Rector, Université du Québec à Montréal (UQAM)
Sarah Houde, CEO, Propulsion Québec
Sabaa Khan, Director General, Quebec & Atlantic Canada, David Suzuki Foundation
Diane Langlois, Vice-President, Corporate and Public Affairs and Government Relations, The Chamber of Commerce of Metropolitan Montreal
Karel Mayrand, President and CEO, Foundation of Greater Montreal
Roger Plamondon, President, Real Estate, Broccolini
Sidney Ribaux, Director, Office of ecological transition and resilience, City of Montreal
Emmanuel Rondia, Executive Director, CRE-Montréal
Christian Savard, Executive Director, Vivre en Ville
Eric St-Pierre, Executive Director, Trottier Family Foundation
Caroline Tessier, Executive Director, The Association des Sociétés de développement commercial de Montréal
Kim Thomassin, Executive Vice-President and Head of Investments in Québec and Stewardship Investing, Caisse de dépôt et placement du Québec
Stéphanie Trudeau, Executive Vice President, Quebec, Énergir
Natalie Voland, President and Founder, Gestion immobilière Quo Vadis
All information on the MCP's work, roadmap, governance structure and funding will be accessible to the public and published as it becomes available on the MCP website at www.climatmontreal.com/en/.
-30-
About the Montréal Climate Partnership
The Partnership is an independent initiative that brings together economic, community, philanthropic and institutional organisations. Its partners are recognised for their level of commitment to climate change mitigation and their capacity to influence their peers. The project is ambitious: to mobilise key players in the Montreal community to help reduce GHG emissions by 55% by 2030 and put the city on the path to carbon neutrality by 2050.
The Montreal Climate Partnership builds on from the success of the collaboration established in 2018-2019 by philanthropic foundations. Working with the City of Montreal and C40 Cities, it led to the development of the City's Climate Plan. The Montreal Climate Partnership is inspired by leading international models, such as the Green Ribbon Committee in Boston. It places Montreal at the forefront of its fellow C40 Cities in terms of making ecological transition a pillar of its prosperity and attractiveness. Learn more at www.climatmontreal.com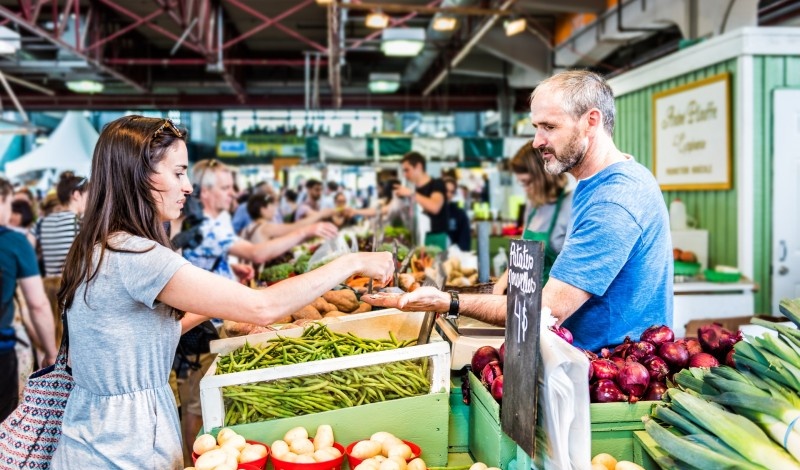 According to the Hunger Count 2022, more and more families, students or working people are experiencing…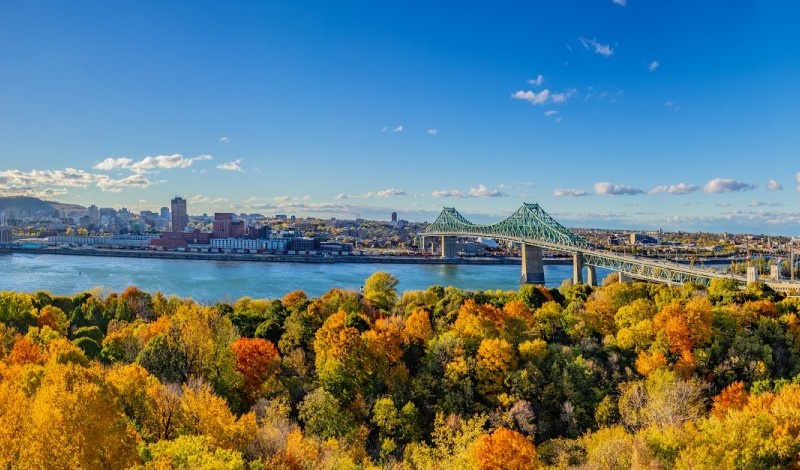 This year, we at FGM committed ourselves to three main missions to better serve the Greater Montréal…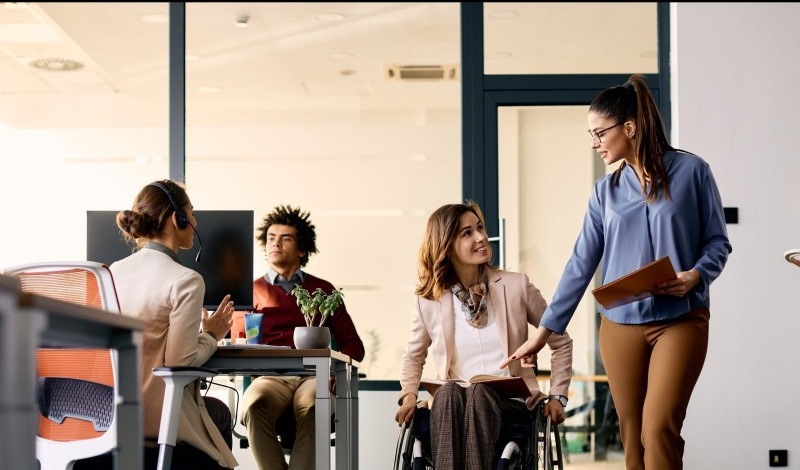 FGM is proud to take part in the implementation of the Community Services Recovery Fund in the Greater…